Welcome!
Marketing Provisions has over 850,000 promotional products for your company to add a logo and message on. We pride ourselves on delivering the best quality promo products at the absolute best possible prices! Ad specialties are a great way to get your message out to the public and also create your brand awareness.
Why does your company need promotional products? If you give away an item with your company's logo on it will give your company more exposure and be accomplished at a lower cost than more traditional advertising. Customers tend to remember the name of a business if they have been exposed to it over and over again. These promotional items can be passed along from person to person, be a daily reminder of your company, even be a walking billboard, basically they are a public display of your business.
We can also help you with any of your artwork needs. We have a team of experienced graphic designers to make your promotional product shine and stand out from the crowd.
Browse our online catalog and see what we can do for you. If you have any questions, please feel free to call us at (843) 353-1602. Thank you and enjoy!
Featured Item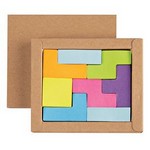 Jigsaw Sticky Flags
Add Fun To Your Desk Top! . Multi-Color Sticky Flags In Puzzle Shapes . Sticky Flags In 8 Shapes . 100 Flags Per Shape . Eco-Inspired Gift Box. 4 1/4" W x 3 3/4" H
$1.79 - $3.13